"Without data, it's only an opinion."
We leverage technology to identify pest movement.
Eco-Friendly Solutions based on Data
ORIGIN has unprecedented insights to pest behaviour.
Chemical-Free & Sustainable Approach
Because we can pre-empt, we respond - not react.
CLOSER TO SCIENCE, CLOSER TO YOU
ORIGIN Exterminators embraces the fact that Singapore is a city in nature, and that pests are part and parcel of our life. Our team constantly pushes to find innovative solutions that optimize resources and manpower sustainably.

ENVIRONMENTAL
SUSTAINABILITY
In 2000, ORIGIN was the first pest management company in the world to be certified ISO 14001. Till today, we consciously factor in the environmental impact of all our decisions.

SCIENTIFIC
APPROACH
Our in-house R&D team designs solutions based on biology and behaviours of urban creatures; ORIGIN's methodical approach to pest management means we do not spray and pray

QUALITY
ASSURANCE
ORIGIN has frameworks to guide every team on how to handle each pest in different environments. We are aligned across departments to give you a seamless and effective customer experience.
WITHOUT DATA, IT'S ONLY AN OPINION
Since 1974, we leverage data & technology to develop and deliver quality and responsible products and services. Nearly 50 years on, the pandemic has only reinforced our direction. Our data-driven solutions are thoughtful answers to Singapore's urban pest challenges.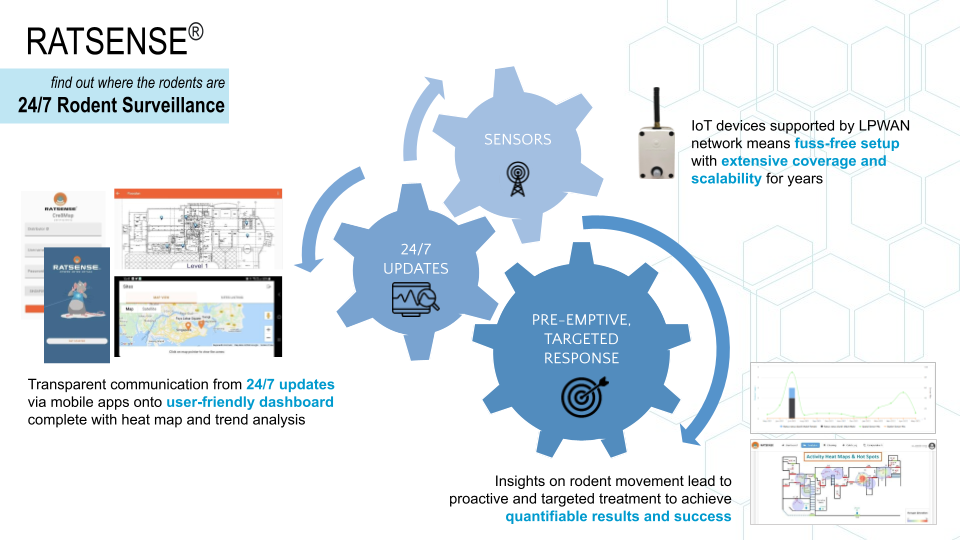 Lightweight and discrete sensors monitor rodent movement 24/7 without triggering the rodent's neophobia. With its unparalleled intelligence, RATSENSE is a game-changing solution for rat infestation in Singapore as it can reduce the required manpower by 50% and increase capture rates by at least 30%.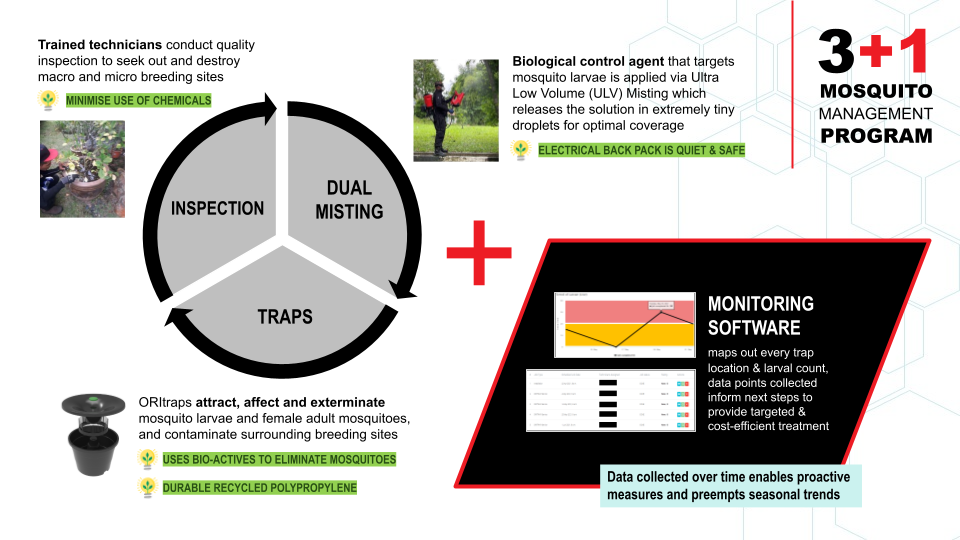 Every 10 days, our software tracks and trends larval count to effectively monitor your environment. Every month, we provide you the comprehensive analysis and professional advice so you can better protect yourself and the people around you.
CHEMICAL-FREE PEST MANAGEMENT
Yes it is possible to NOT use chemicals! Of course, a lot of factors determine whether the chemical-free approach works for the situation. One crucial factor is the level and extent of inspection. Other than identifying the usual breeding and feeding hot spots, our technicians are also trained to observe housekeeping practices, site structure and conditions to get a full picture of your pest situation.





I have been using Origin exterminators for a few years now for my general pest control. They have been good and responsive. Also have been using them for several termite treatments and they have been very effective. The operations manager
...
Nicholas and their termite specialist Azman have been my main points of contact and they have been professional and knowledgeable. No reason to look for alternatives.
Read More





we have been using Origin Exterminator since 2007. All these years with them and their excellent spot on service, we have no problem with pests invading us - their service staff are all very well trained and very honest. What i also find
...
amazing is your calls and mails get answered within the next working days👏. The backend staff are also knowledgeable about my needs. Honestly it's a real company cos u get to talk to real people and not a machine. I have recommended many of my friends to them and the plus factor is Origin is eco friendly, human and pets friendly. I have moved 5 times around Singapore since moving back from north asia and Origin have move with me. Thank you Origin :)
Read More





Selected Origin 10 yrs ago and never regretted our decision. When we first bought our place, it literally had termites and trails all over the house and even had visible tunnels along the side of the wall. Because the place has a jacuzzi,
...
Origin recommended a non chemical approach (none of the other exterminators I spoke to pointed that out). It took a few months to get rid of the termites and we got hits every now and then from the markers they placed around the house but never had any problems internally since. Before I forget, they also have long serving and professional staff. Highly recommended!
Read More





I have been a client of Origin Exterminators for more than a decade. Recently, I had termites infestation in my garden. Their termite specialist came down punctually and meticulously checked through my
...
garden He thoroughly took out the nest and the Queen termite.
Read More




I find the service staff very responsible, responsive and professional. Of the years they have provided us with their service, I have not had any complaints from our tenants. Pictures of their every visit to the property were sent to
...
landlord and tenant. I feel very reassured by their service when dengue mosquitoes are so prevalent in parts of Singapore.
Read More





This email hopefully marks the end of our bout with the bed bugs in my mom's place. During this current episode which started since mid-Nov last year, your team showed professionalism and expertise,
...
treading through the challenges of a home filled with nostalgia and perfect hiding places for the bed bugs. Given the holiday season, and a very busy period for the team, our case was still treated with priority and dedication. Even with a tight schedule, Supervisor Lawrence would personally come for each treatment and inspection, checking every crack and crevice to ensure the last bug is eradicated, painstakingly inspected and treated the place each time. Even today, weeks after the last bug was seen, Supervisor Lawrence came down personally to ensure no bug can be found, still checking every possible spot and possibility. His dedication and customer service is the ace of Origin, and your team is the pride of Origin. While we do not wish to have to call Origin, but if anyone has a pest problem, I would certainly recommend Origin.
Read More





Engaged Origin 5 months ago - mid Aug 2020 - for bed bug issue. I can only share about the service as I have already rid the nest a week before Sparky's arrival.
...
On the first inspection, Sparky and technician Yijie gave me an all clear but I still proceed with ULV misting just for peace-of-mind. Then, proceed with second misting after 14 days followed by last inspection by Sparky a week later.
Yijie was very helpful with all the pest enquiries during the warranty period. He calmed my nerves when I kept sending photos of dead bugs to be identified. Sparky... my saviour! After suffering two weeks of sleepless nights, I thanked Sparky for giving me the all clear - twice.
Read More





I engaged the services of Origin Exterminator recently for the bed bug problem in my house. Sparky the bed bug sniffing dog was very accurate in sniffing the locations where the bed bugs were hiding. Eddie the technician was also very
...
helpful and responsible in handling the misting of the house to kill the bugs. In the end, the problem was resolved. Thank you for the hard work!
Read More